Strawberry Shortcake – Thursday May 9, 2019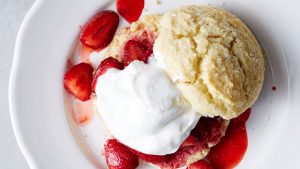 It's our second annual Strawberry Short Cake Social, y'all!
Come out Thursday, May 9th to eat the best shortcake around. Gelato will come from Celebrity Dairy Farm, berries will be from vendors and other area farms, and short cake will be made by the remarkable pastry chef, Marcey Clark (also fish monger at Hook & Larder).
Shortcake is $5. Come early – we'll keep 'em coming while supplies last!
The market opens at 3PM and goes until 6PM.